Indiana Design Center
IDC Event Space
Meeting Space & Special Events
IDC Members have the opportunity to use the building space for small to large scale events like new product launches and continuing education courses. Event space is also available for private functions such as cocktail receptions and corporate fundraisers. Click here to download the event rate card.
For additional information and to check dates, please call 317-569-5975 or email [email protected].
Conference Rooms
The second floor includes large and small conference room spaces available for meetings or seminars. The small conference room can accommodate 6 guests and the large conference room can accommodate 12 guests, depending on necessary space layout. The large conference room includes a large screen TV with projection capabilities for multimedia presentations or video conferencing. Both spaces also include a white board.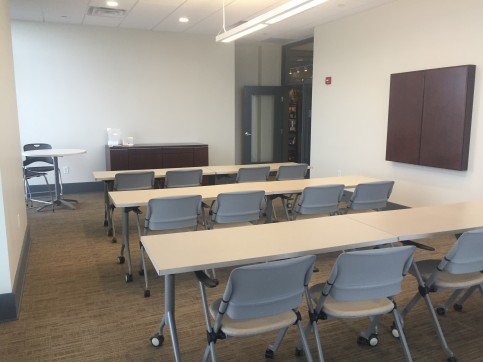 The Resource Library
The resource library space is available for large group meetings during non-business hours and can seat up to 80 guests. Groups may use the existing furniture or rent additional seating as necessary. A projector or 70″ flat screen monitor are available for rent.
The Grand Hall
The Grand Hall is the first-floor atrium and lobby area of the facility. It is available for rent during non-business hours and ideal for casual receptions and cocktail parties.