Indiana Design Center
Leasing Opportunities
Home to Indiana's Design Community
The Indiana Design Center offers an integrated mix of leaseable space to manufacturers, suppliers, artisans and design professionals with the goal of creating an innovative and synergistic community. For general inquiries, please contact [email protected].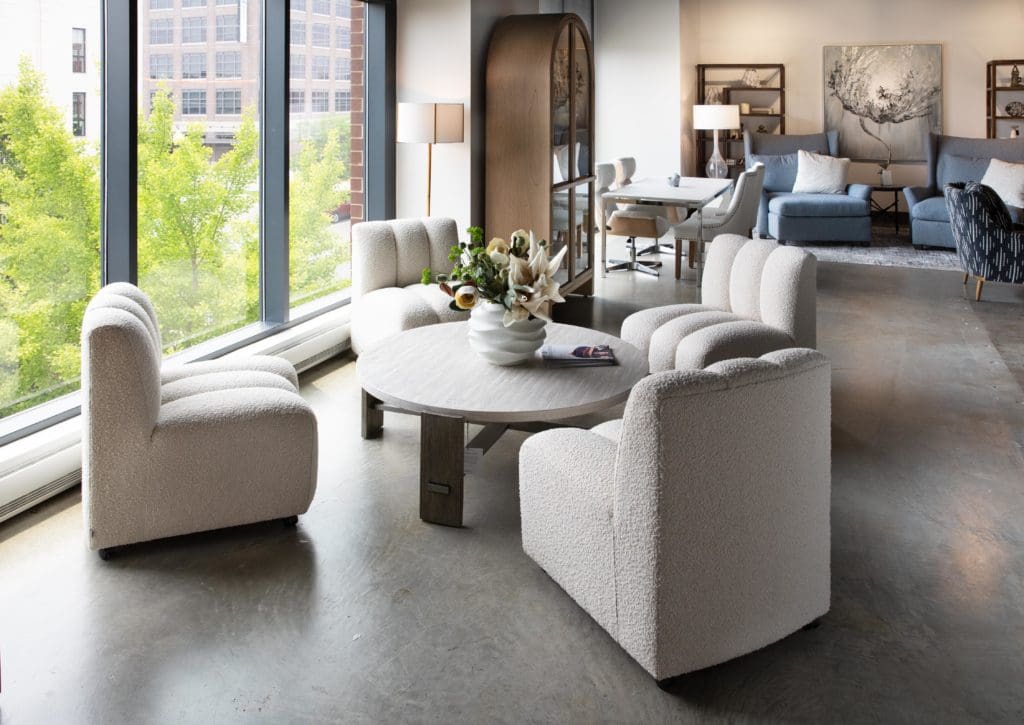 Showrooms, Studios and Office Space For Lease
The Indiana Design Center is home to more than 30 companies comprised of retail and trade showrooms on two levels and studio office suites. For a current listing of tenants, visit the directory page. Interested in opening a retail showroom or office suite at the IDC? The IDC offers on-site concierge services, marketing support, conference rooms for private meetings, garage parking, the convenience of an on-site cafe and many other amenities. Click here for a list of current lease opportunities.
Design Resource Library
The Design Resource library encompasses 4,200 sf of space on the second floor where manufacturers, suppliers, contractors and artisans can feature product brochures and samples as a benefit of membership. The library is also a flexible event space and venue for continuing education, training seminars and design workshops.
Product Showcases
Showcase displays are available for lease to represent companies' product information and samples. Showcases are typically dynamic displays visible and usable to the trade and consumers in becoming educated on your product or service. Flexible display options are available on the first and second floor.
Advertising
Back-lit advertising panels are located throughout all levels of the IDC and are an excellent way to increase brand awareness for your business in the building.
Studio Suites
Designers, builders, architects, artisans and manufacturers' representatives benefit from being part of a synergistic community at the IDC. Professionals enjoy the convenience of being among showrooms, resources and industry partners within a single building. On-site amenities include but are not limited to private conference room space, concierge services, phone/internet, marketing support and a kitchenette/business center.
Website
Opportunities to reach a broad market with product portfolios and special online features are available on the website. Website features are a value-add to members, showrooms and tenants.
Sponsorship
The center hosts various art and design events and programs with opportunities for sponsorship. We also welcome your partnership ideas.
Contact
For additional leasing inquiries and questions, please contact:
Amy Mehall, marketing manager
317-569-5975
[email protected]