Indiana Design Center
Holiday Preview Open House
Join us Wednesday, November 8 from 5 – 7:30PM for an open house featuring special sales and promotions, live music, hors d'oeuvres, beer and wine.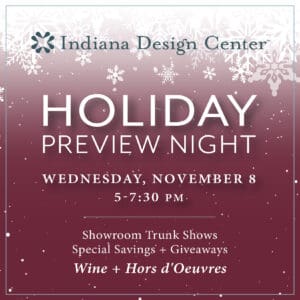 Special Features
Aronstam Jewelers
 features the best in fine jewelry, stones and gifts for the holidays.
Conceptual Kitchens presents innovative kitchen designs, demonstrating form & function.
Drapery Street presents pop-up shops with a local candlemaker, jewelry and clothing from A Dose of Bazaar and more.
Everything Home showcases furniture and accessories for the entertaining season.
Godby Hearth & Home presents fireplace and firepits for comfortable cold-weather living.
GreyHunt Interiors invites guests to walk their pink carpet and enter to win select design services.
Holder Mattress presents the Holder Holiday Shop with exclusive discounts on fashion, gifts, select home décor and Christmas. Get guest rooms ready with special offers on mattress sets, as well as a special giveaway.
Naturspire presents plants for gifting and a moss workshop, register here to participate.
Open Gate Collective invites the public to their showroom, offering a one-stop shop for Christmas décor, furniture and accessories.
The Premier Group presents smart home demonstrations in their showroom.
Stephanie Wiott Designs presents furniture and décor, with accessories perfect for gift-giving.