ARTIST SPOTLIGHT: Marco Querin
The Coats-Wright Art & Design gallery on the first floor of the Indiana Design Center has added a new artist to its collection of internationally-recognized creators. Marco Querin, an artist born in Milan, Italy, connected with gallery director, Dianne Wright, through the local design industry. Wright was drawn to Querin's meticulous and detail-oriented aesthetic and knew his work would be a niche addition to the gallery.
Querin's style reflects his intrigue with all that can be controlled, which resulted from a life of constant change, both positive and negative. Once faced with unclear outcomes and direction, his pieces are creative expressions of an appreciation for precision, order and thoughtful details.
The gallery features an eight by four foot piece, Observing Multiculturism, comprised of carefully-threaded cotton and alpaca fibers.
"This monochromatic piece has a quiet sophistication to it that is juxtaposed with bold, large-scale presentation and a variation of fine textures," says Wright.
Visitors to the gallery are drawn to the piece's simplicity only to discover it is incredibly complex in composition.
The fibers are hand-threaded across the piece and held in place by nails the artist hammered by hand, resulting in a profile that reveals its precise construction process.
"Querin's work is very experiential – calm, yet compelling, and begs to be inspected," mentions Wright.
Whether a monochromatic or colorful piece, Querin's work is exacting in its execution and conjures a sense of order inside the viewer.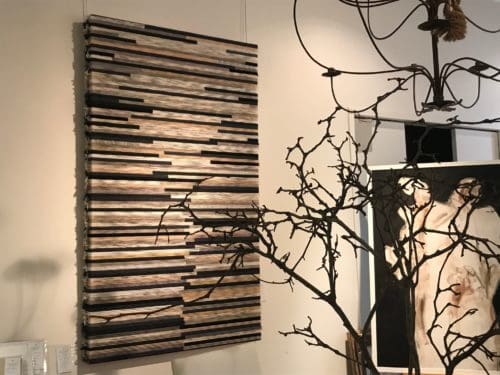 "Art's power to help us heal, connect and relax is evident in Querin's work. These pieces can exist in any style environment and represent the discipline required to create something magnificent," says Wright.

Construction details of "Memory of an Earthquake".
To learn more about Querin's work, contact Dianne Wright: [email protected] or (317) 569 5980.