SPOTLIGHT: Well Dressed Windows with Caryn O'Sullivan + Drapery Street
As the 10-year anniversary of the Indiana Design Center approaches, we wanted to speak with our resident showroom owners and managers – the tastemakers and forward-thinking innovators in our local design landscape. First up is Caryn O'Sullivan, the owner of Drapery Street, which is one of the longest-tenured showrooms at the IDC. Drapery Street is located in suite 109 on the first floor, serving both the public and design professionals.
Caryn O'Sullivan started her business in 2005 after struggling to find fabulous fabrics and custom draperies for her own home. She identified a need in the marketplace to offer quality and well-designed drapery. That need has expanded to Modern Window Treatments and Custom Design. Drapery Street recently modernized its showroom on the first floor of the Indiana Design Center to feature:
A Hunter Douglas Gallery
Automated window shadings – watch for the upgraded experience center coming in late 2019!
Outdoor bug screens and solar shades
Drapes, roman shades and cornices
Commercial automated and manual shades
Fabrics and couture fabrics
O'Sullivan finds that Drapery Street is a great partner for homeowners who are buying, building or remodeling a home and are frustrated because they don't want to cover their windows but want privacy/sun control. Some feel they don't have an eye for design and want a designer to lean on, while others are overwhelmed and worried about making an expensive mistake.
Her designer clients are generally 1-4 person firms who want to focus on design while having Drapery Street as a partner who can handle all of the details from measure to installation. Designers enjoy having the Drapery Street showroom available to host their clients showing them the ideas and concepts first hand and demonstrating the available technologies in person. Working with the Drapery Street professionals means designers are using their creative talents instead of troubleshooting issues that can arise throughout the process of design, fabrication and installation.
"As an accountant-turned-business-owner, I enjoy the flow between finding creative solutions to evolve the company and focusing on sound business practices that result in thoroughly satisfied customers," says O'Sullivan.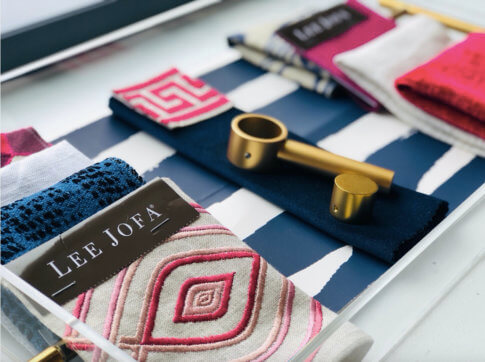 STAY SAVVY
As in-home design technology becomes more accessible, the prices come down, which makes a custom-designed project something that is more within reach for a customer that comes into the Drapery Street showroom. The client can hand-select everything from fabrics, linings, hardware and trim, and then customize the motorization to control it. There is a whole universe of shades and custom solutions that can integrate seamlessly with your home technology system. Automated window shadings have expanded past just roller shades and are a design element like lighting and chandeliers. There are treatments that can actually bring light into your home and connect using simple Alexa and Google home controls or Lutron and Control 4 systems. A sign that you do not have the right solution is if you are doing the same treatment in every room of your house.
O'Sullivan assures that both the minimalist and maximalist design tastes are kept in mind, "My design associates and I travel the country to ensure we are offering a curated selection of design options from crisp, clean lines to bold florals." The recently-remodeled modern window treatments design boutique features a couture collection design studio, with lines like Schumacher, Thibaut, Lee Jofa and Stroheim. The studio provides a comfortable and convenient atmosphere to be able to touch and see in person the variety of selections available. Once the design is fabricated, Drapery Street's in-house installers hang and set up the window treatments. The motorization options are customized window-to-window in each room of the house, depending on sun exposure, privacy, views and time of day.
With all of these options available, O'Sullivan stresses the importance of getting involved from the first step.
"In building or remodeling a house, especially one with modern style, it is best to assemble your team from the beginning. If we can be there in the planning stages, it is much easier for us to advise your contractor, avoid costly additions and create the best window coverings for each window involved, making sure to use the correct materials and finishes to make the window treatment accentuate the customer's lifestyle." – Caryn O'Sullivan
PERSONAL STYLE
Caryn's own design style falls on the modern side but not without bold pops of color and playful patterns like Schumacher's Chiang Mai Dragon or Kravet's Bunny Wall wallcovering designed by Hunt Slonem. Her recently renovated mid-century modern ranch was featured in Indianapolis Monthly in 2018.
"Designing my current home has been a completely different experience than the one more than 15 years ago. I enjoyed being on the 'client side' of the Drapery Street experience and seeing how our designs transformed rooms in my own home," shares O'Sullivan. Contact Caryn today to learn more about the Drapery Street process and reflecting your personal style through custom window coverings.
Many thanks to Caryn O'Sullivan and the Drapery Street team for being an integral part of the Indiana Design Center community!