DOC Wrap-Up: Simplify Your Life with a Smarter Home
Jason Barth, president and CEO of The Premier Group, kicked off the IDC Fall DOC Workshop Series with an informative presentation on how to improve your quality of life with a smarter home. Smart Home Technology streamlines and simplifies all the technology in your home, offering the ultimate lifestyle of comfort and convenience. With platforms like Control4, the simple act of touching a screen leads to turning on lights, playing music, arming security systems, securing locks, operating blinds, enabling cameras and more.
Amazon's Alexa is one of the powering technologies behind the accessibility of home automation. The easily obtainable and affordable Dot and Echo devices can sync and control household actions like never before. Even if you're not a tech guru, this easy-to-use technology is reliable and can make day-to-day life more enjoyable.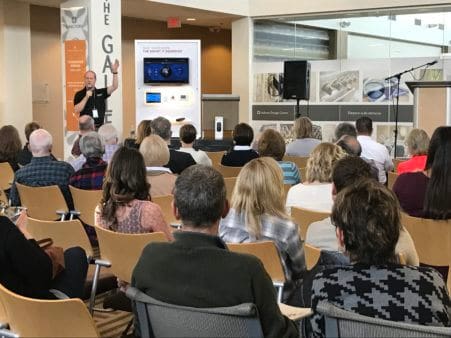 GAFA, an acronym for "Google, Amazon, Facebook, Apple", is commonly referred to by newspapers, blogs, and TV personalities. The GAFA tech giants are among the most powerful companies in the world and dominate almost every facet of our lives. Amazon's already-established, cloud-based software and voice recognition technology allows us to fully integrate our home automation account and connect to our Amazon account using the Alexa device. Despite Alexa's popularity and mass appeal, the platform is not perfect…yet.
Pro Tip: Barth shared that the Alexa platform is password protected and more secure than using an unprotected wifi-based automation like Nest or Ring.
Improving Alexa's ability to interpret voice commands is the key to making it work flawlessly. For example, a voice command must be said verbatim of how it was originally entered into the Alexa tool (i.e., if the scripted voice command is "Alexa, dim lights to 50%", then "Alexa, lights down 50%" will not trigger the action). Recent advances will allow for artificial intelligence to play a role so that key words can be assimilated for the desired result without having to recite the exact scripted command.
When using home presets, Barth recommends creating "scenes" like morning, evening, bedtime, and entertaining. A morning scene would consist of: opening the blinds, turning on the lights, turning off the security system and unlocking the doors. The entertaining scene might look like: dimming kitchen and family room lights, turning on music and turning off the TV.
If you are looking to up the intelligence of your home, contact The Premier Group located in the Indiana Design Center, Suite 118.

Premier Home Electronics
200 South Rangeline Road, Suite 118
Carmel, IN 46032
Hours: Mon. – Fri. 10 am – 6 pm | Sat. 10 am – 4 pm
317.580.1032 P
317.580.1033 F
[email protected]
premier-group.com