GUEST POST: How Good Design Can Simplify Your Life
Post written by Maria Baer, owner of The Baer Minimalist
When the Indiana Design Center asked if I'd come tour their showrooms, I jumped at the opportunity. With the entire first level open to the public and the second floor dedicated to design professionals and trade, a field trip to the IDC should be at the top of your Spring bucket list, especially if you need inspiration, guidance and/or execution for an upcoming design or remodel project.
As a professional organizer (cue organized + stylized pantries, master closets and corporate supply rooms), my interest was learning about products that conceal typical "eyesores" in a home and on the flip side, ways to showcase items that deserve to be on display. My Baer Minimalist Mission: show how good design can simplify your life.
Let's go on a quick tour and check out some of the products that caught my eye:
Conceptual Kitchens & Millwork
How can I touch on the topic of how great design can simplify your life without gushing over Rob Klein, Amy Kreutz and the team at Conceptual Kitchens and Millwork? Having the chance to tour their showroom is inspiring to say the least – it also may make you want to tear your house down and start over. Seriously, this showroom should come with a warning label.
They have a knack for making the insides of drawers and cabinets just as beautiful as the outside. Take for example, this custom drawer showcasing its ability to turn your spices, utensils – even your plastic wrap and tin foil – into a convenient little mecca placed exactly where it should be…right next to your cook surface. Talk about intentional design and attention to detail.
The Premier Group
When it comes to creating a space that marries design and technology, The Premier Group showroom is the spot. I could have stayed and played all day with the control panel that allowed us to lift up a gorgeous piece of art (in this case, a custom painting from Heather Ward Miles) to reveal an inset TV, and the mantel piece below which hid a soundbar and the corresponding cords for the living room's electronics. These works of form + function are custom-designed and manufactured in Ann Arbor, MI by Leon – leaders in Media Design and Custom Audio.
Whether you choose a Moving Art Lift that takes a piece of art from your collection and uses it to conceal your TV (and wow your guests) or would rather just have an Edge Media Frame to encase your TV and/or soundbar, Leon is creating such unique designs, no matter your décor style. Plus they keep those pesky cords out of view and what could be more chic than that?
Holder Mattress
I love "shopping" my clients' homes to find unique ways to display items that are otherwise tucked away in drawers (and let's face it, often in a jumbled mess). As I perused the shelves of Holder Mattress, I found so many neat trays, containers and canisters worthy of displaying your most prized possessions.
Consider using a tray to feature your sunglass collection, a metal jewelry stand to display your daintiest necklaces or a ceramic canister to sit bedside for your nighttime essentials.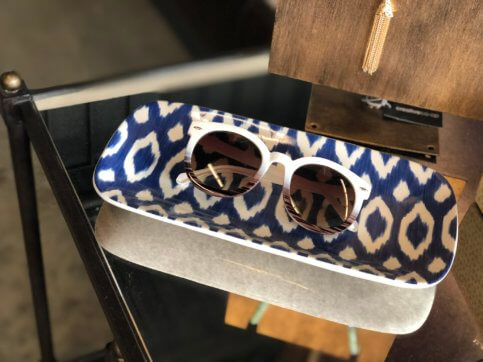 And while you are browsing for gifts and goodies for the home, I dare you not to fall in love with their bed frames and custom mattresses made right here in Indiana. That hot pink number in the back corner is calling my name.
Rusted Window
I could have spent all day oohing and aahing over the goods at Rusted Window. What initially caught my eye was the fantastic collection of baskets in the window. Baskets are KEY when it comes to organizing any space – whether they disguise toys in the living room, hold throw pillows and blankets in the guest room or spare sheets in the linen closet. If you haven't gotten on the basket train, "all aboard, people!"
In the midst of gawking over baskets, I also took such inspiration from how the store displays were styled. I'm always keeping my eyes peeled at how retail shelves are styled, and incorporating those ideas into the storage spaces I organize. Because who doesn't want their linen closet, or even their basement, to look like a boutique?
And that, friends, is just a snippet of what you'll find in the Indiana Design Center's 15 showrooms that welcome the public to shop. The IDC is filled with experts in their craft and any project executed with their assistance is bound to be better than you ever imagined. Need a designer to help you pull it all together? Visit the featured designers page to browse portfolios.
About the Baer Minimalist:
The Baer Minimalist helps busy families create ORGANIZED + STYLIZED spaces throughout Indianapolis. To keep up to date with all of the tips, tricks and inspiration doled out, subscribe to their newsletter, The Minimal-List, here.