GUEST POST: New Products at LP Building Solutions Display
Post submitted by Jeff Bills, LP Sales Representative
It is amazing that we are now in the year 2020 where we thought the future would include things like flying cars. While we are not surrounded by The Jetsons-like technology, LP has revolutionized building solutions to create an easier home building experience. Whether you are renovating the exterior of your current home or tackling a new construction project, we want to house all of our LP Building Solution products under your roof.
Today, LP is continuously working toward the future of building. We're creating stronger, longer lasting and more innovative products while focusing on protecting the environment. With that, we are introducing four new products to our LP Kiosk on the second floor of the Indiana Design Center. Check out the features and benefits of LP's newest additions!
LP SmartSide ExpertFinish
ExpertFinish® color isn't just painted – our process ensures that your siding's color looks great and stands up to the test of time.
Provides the durability and longevity you look for in a prefinished product with high-grade paint
Primer and finish coat are sources from the same trusted supplier
Uniform color application in a controlled environment ensures a more attractive look
Consistent paint coating across texture variations
Our collection of 16 pre-finished colors bring high quality color to your home's look. Check out LPCorp.com to test the color visualizer!
LP SmartSide Smooth Lap Siding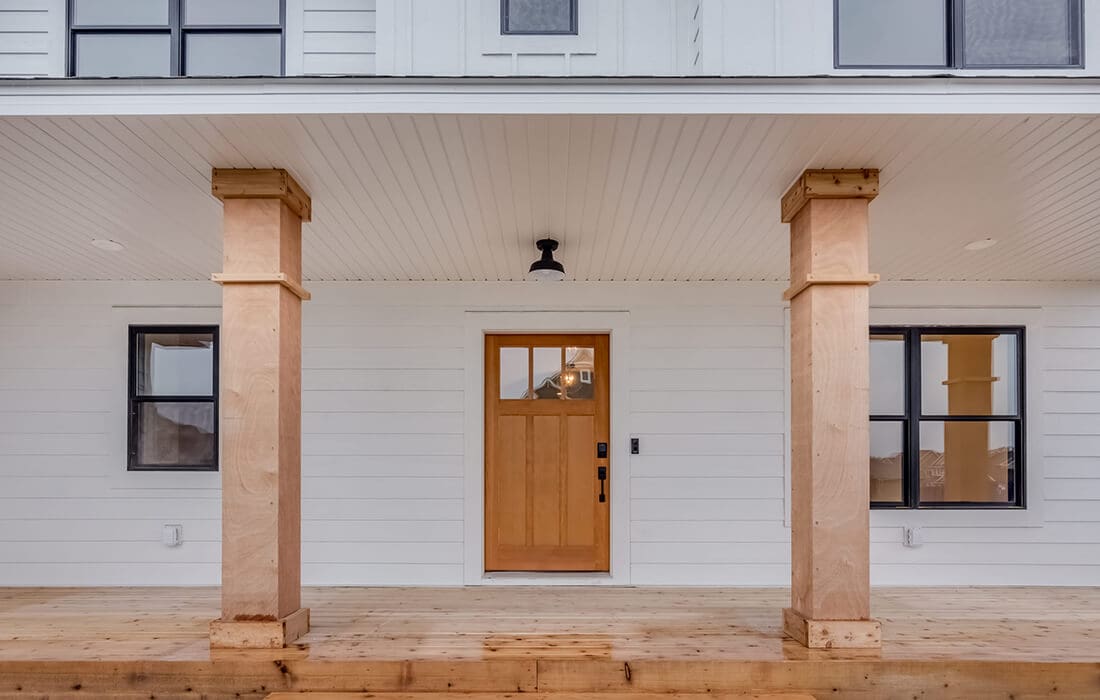 Advanced Durability – engineered wood technology offers superior protection against the elements
16-Foot Length – can allow for faster installation and less jobsite waste
Fewer Seams – can result in a cleaner, more elegant look
Industry-Leading Warranty – backed by a 5/50-year limited warranty
LP SmartSide can also be painted to look like stained wood by independent local pre-finishers.
LP WeatherLogic
Protects from Water – helps safeguard the home from water intrusion while allowing moisture vapor to escape
Tighter Building Envelope – reduces air leakage allowing for a more energy-efficient home for the owner
Easy Installation – installs like regular sheathing for potential labor savings while keeping jobsites cleaner and more professional
Long Lasting Protection – protects against air and water during construction, providing structural stability for years to come
LP Legacy
One of the Stiffest in Class – APA-verified panels are one of the industry's strongest, stiffest sub-floors alongside exceptional fastener holding
Superior Moisture Resistance – panels are packed with more strands, resin and wax to provide exceptional resistance to moisture and edge swell
Gorilla Tough® Panels – wood strands are coated with water-resistant resins using Gorilla Glue Technology® for exceptional stiffness
Industry-Leading Warranty – LP offers a unique Covered Until It's Covered® No-Sand Warranty PLUS a Lifetime Limited Warranty that lasts as long as the home
To see samples of these new products, visit the LP display on the second floor of the Indiana Design Center (take a left off the elevator and see the display in the library alcove near the Trade Resource showroom). For more information, contact Jeff Bills with LP Building Products at [email protected].