GUEST POST: The StyleRiot's Picks
Please enjoy this guest blog post by fashion stylist and owner of Style Riot, LLC, Laura Walters.
Laura has worked with global brands and has been featured in international/US magazines and online publications such as VOGUE, VOLANT, ARCHIVE, PEOPLE, PATTERN and many more. We invited Laura to check out the IDC showrooms and share the parallels she sees between fashion and home design.
Seeking out inspiring destinations in design and fashion, like the Indiana Design Center, is one of my favorite pastimes. So, when I was asked to write a blog post about the similarities between fashion and design, I jumped at the chance. An opportunity to wander through IDC and take in what each showroom has to offer? Yes, please!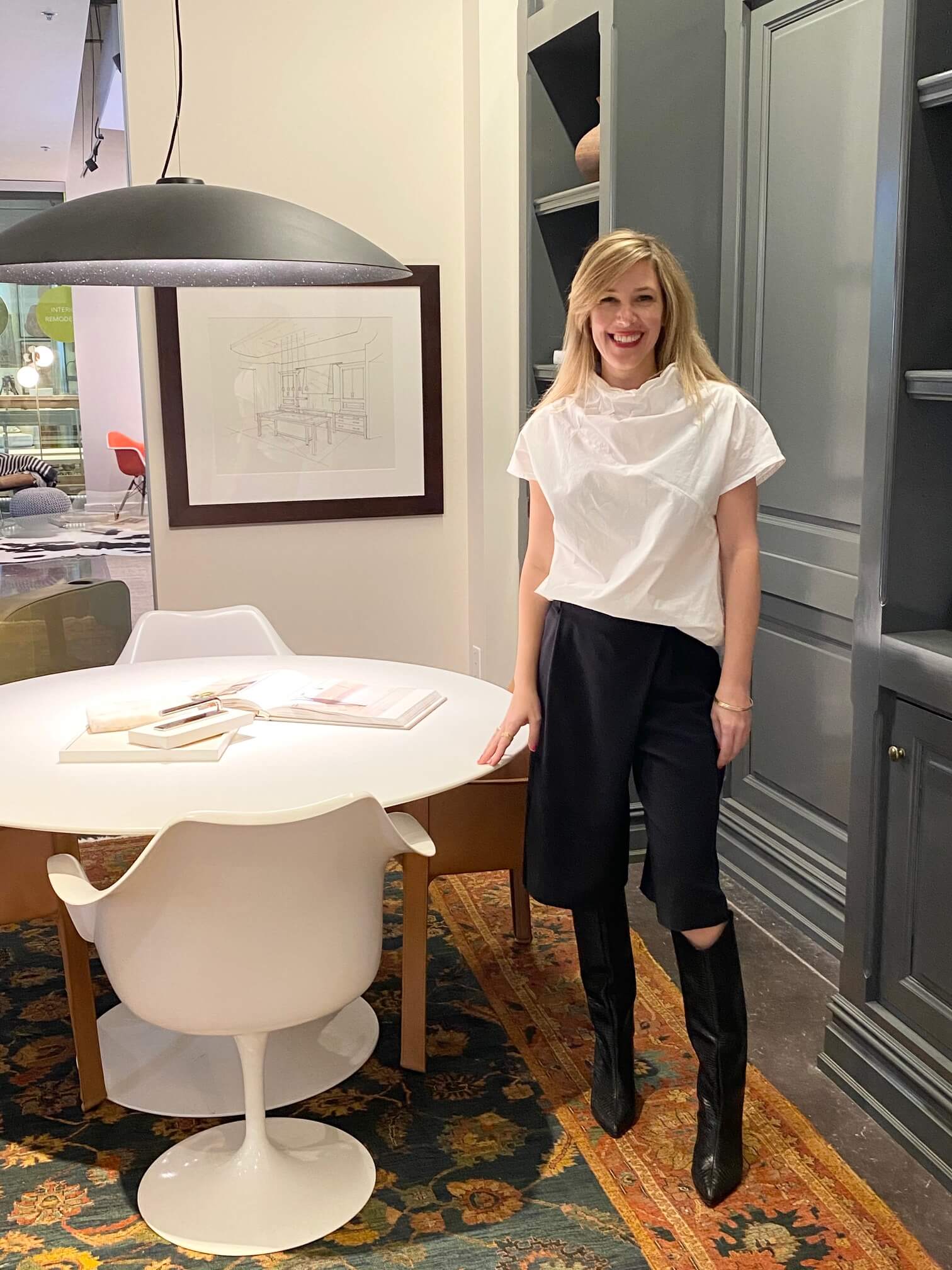 The symmetry between design and fashion is undeniable. The parallels exist on an equal playing field. What is pleasing to the eye is pleasing to the soul. What we wear is a reflection of who we are, as are the design choices for our home.
Finding Inspiration
Design and fashion can also reflect a mood, a feeling and an interpretation of how we navigate the world. In whatever capacity you approach the design within your home and the clothing within your closet, our need to feel inspired and comforted by our aesthetic is a wonderful and necessary aspect of the human condition. It is why we peruse museums, read fashion magazines and visit places like the Indiana Design Center for inspiration. Home to fifteen showrooms, there is truly inspiration at every turn.
As a wardrobe stylist, visual stimulation and tactile experiences are not only good for my creative soul, but also imperative for the kind of work I do. Discovering and educating myself on common trends within two artistic mediums helps me to be a better style steward for my clients. In fashion and design, one does not exist without the other and being aware of these parallels is a great way to discover trends and assist in helping others find their own personal style and aesthetic.
Trend Spotlight: The 60's
This spring, one of the hottest fashion trends (and my personal favorite) is none other than: The 60's, baby! Click here to see a fashion example of this trend that inspires me.
With kaleidoscope-like prints and patterns, big floral and bright colors, it is the perfect trend to incorporate in both closet and home.
Deliciously vibrant and full of life, just like the pieces below. The psychedelic lines of the credenza from Pair'd Furnishings, the adorable floral tiles from Jack Laurie Floor Designs, and the lively mix of prints from fabric swatches at Drapery Street are all a perfect representation of what we will see in street style this spring and summer.
Trend Spotlight: Voluminous Victorian
And as far as favorite trends go, maybe I spoke too soon, because I am also falling madly in love with Voluminous Victorian. Click here to see what I mean by this reference.
If you thought oversized sleeves were a trend of the past, think again, because they are back in a BIG way! (See how I did that there?).
And nothing gets me feeling fabulous and voluminous like a tour through the Ferguson Bath, Kitchen and Lighting showroom. I spent over an hour wandering and taking it all in. A few fixtures in particular had me drooling and gave me all the Victorian-era vibes. Fixtures, even Queen Elizabeth I, herself, would have installed, just to give her throne room a bit more je ne sais quoi. If only they had electricity in 1588. Sigh.
If ever you were going to emulate a historically significant Queen from the 1500's, now is the time to do it. Take inspiration from the architecture of the fixtures below and translate their volume, distinct lines and wonderful buoyancy into your street style.
Trend Spotlight: Knitwear
Perhaps it's an extension of the loungewear uniforms we have become so accustomed to this past year, but another trend for spring and summer is the ever fabulous, oh so soft and oh so wearable: KNIT! Click here to see the casual inspiration.
It's comfortable, it's versatile and this season it's making quite the fashion debut as a vibrant, eye catching closet staple we always knew it could be. Welcome to the party you delightful ball of woven fabric, you!
And speaking of parties, I want to be sipping champagne at any party where these fabulous works of art by Marco Querin are on display. Visit the Pair'd showroom to take in their vibrant colors and intricate detailing.
Or find your "knit fix" fashion inspiration from one of the many textured carpet samples at Rusted Window, like the cable knit rainbow swatch below.
If it's style and comfort your heart desires, you'll find your style star inspo in this beautiful upholstered knit chair from Holder Mattress Home Collection. The chair was manufactured in northern Indiana (love local!) by Outre.
I hope you enjoyed your first dose of fashion and design trends coming together at the Indiana Design Center showrooms. Stay tuned for part 2 of my showroom exploration and trends spotlights. – The Style Riot