Innovations in Outdoor Living
Outdoor kitchens and living spaces continue to gain in popularity as we enjoy the benefits of being outdoors and connecting with nature during Indiana's prime seasons. Through design innovations developed over the years, we can experience luxuries that are thought of as indoor amenities like TVs and kitchens in the outdoors. The showrooms at the Indiana Design Center (IDC) are home to experts in this design field and also provide a showcase for what is new in the outdoor living category.
The following products are some of the most popular when it comes to elevating an outdoor entertainment space.
Customizable Outdoor Living Spaces with Godby Hearth & Home
The experts at Godby Hearth & Home offer a host of outdoor living products and solutions that range from fire features to grills, furniture and products like ClifRock that can create a built-in design to your outdoor living area. ClifRock is a state-of-the-art, weather resistant stone panel technology that brings high-end outdoor living features to any backyard. This product mimics the traditional look of stone but with less materials, property disruption and a simplified installation method.
As one of only two authorized ClifRock installers in the state of Indiana, the Godby Hearth & Home team can work with you to select from a variety of designs, colors and stone profiles to create a fully custom, high-performing and weather-resistant feature that complements your home and enhances your outdoor space.
Weather-Resistant TVs with The Premier Group
The Premier Group reports that outdoor TVs take center stage for those who want to enjoy a ballgame while grilling out with friends. Available from several brands, TVs designed specifically for outdoor use offer a much brighter picture to offset the sunlight, and feature durability that can withstand harsh winter weather and extreme summer temperatures and humidity. There are multiple outdoor TV styles to choose from, offering a varying degree of contrast depending on whether it will be housed in a covered area of the patio, or completely exposed to the elements.
Outdoor Shades with Drapery Street
A beautiful view can make your outdoor living space shine but sometimes protection is needed from sun glare, harmful UV rays, bugs, heat and debris. To maintain your view but offer protection when desired, Drapery Street customizes and installs exterior screens to fit any type of deck, porch, pergola or outdoor structure. Outdoor shades are available in a variety of solar screen fabrics with multiple operating systems to choose from, including motorization which can make raising and lowering shades a breeze.
Sleek Sound Systems with The Premier Group
Whether entertaining or relaxing, the perfect playlist and sound system makes all the difference. The Premier Group specializes in selecting and installing the right outdoor audio solution for a home and often recommends the Sonance Garden Series. This series offers a high-quality and evenly distributed sound throughout the entire outdoor space. The speaker designs are discreet and easily blend into the surroundings in the landscaping beds.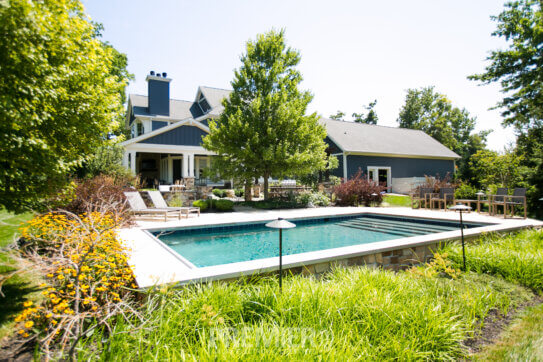 With the spring season upon us, the time is now to begin planning outdoor living improvements to enjoy later in the year. Showrooms at the IDC offer the latest product offerings and design professionals can help you to create an outdoor space that is an inviting extension of your home's interior. Visit the shops and showrooms at the IDC to learn more or browse designer portfolios on the IDC website.