IN THE KITCHEN: Designer Details to Note
Ever walk in a room and fall in love with the space? It just works but you may not be able to put your finger on why it works, which is a sign of good design. Design
is in the details, as they say, and thoughtful, perhaps nuanced details are what create visual harmony in a room and make it truly personal.
October is the most active time of year for kitchen and bath remodels which means showrooms and designers at the Indiana Design Center are busy. Designer Whitney Parkinson, principal of her namesake firm, recently presented a seminar at the design center around dream kitchens and master retreats. Parkinson agrees that details are what add personality to space.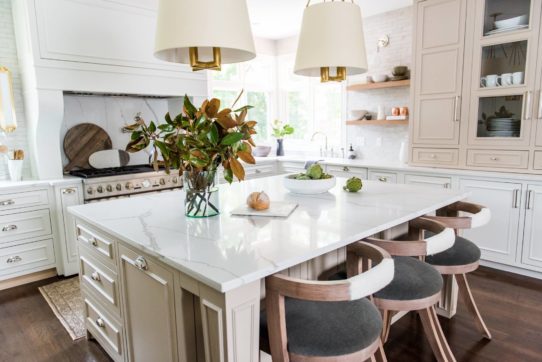 "As a designer, I've become confident in the art of mixing materials like metal finishes, countertop stone and even cabinetry colors in a room," says Parkinson. Parkinson's work shows how a clean palette can still have plenty of dimension as she plays with texture, scale, lighting and color tonality.
"Your eye wants to see balance. And if your design details are right, the space will feel luxurious and have longevity," adds Parkinson.
Parkinson is a fan of approaching a kitchen space as a blank canvas by utilizing custom cabinetry makers. And don't forget your ceilings; Parkinson refers to them as "the fifth wall" and loves to add texture, beams or architectural details whenever possible.
The Ferguson Bath, Kitchen & Lighting Gallery at the Indiana Design Center showcases hundreds of brands from manufacturers of plumbing, lighting and appliances, in addition to offering kitchen design services. The showroom manager, Jeremy Konechne, reports that the most recent product launches are all about design personalization.
"The Café brand of appliances by GE is now offering shoppers the choice between premium matte black and matte white finishes along with interchangeable metallic knobs and handle options. There are countless design combinations to make your kitchen unique," says Konechne.
The kitchen is arguably the most used room in a home and enjoyed by so many, so it is no surprise that the industry continues to serve up new opportunities to add personal design statements to it. To learn more visit the Indiana Design Center showrooms or connect with a design professional here.